Below you will find the full case study of how Surrey Ambulance Service introduced the ELK, one of Mangar Health's Emergency Lifting Cushions. It includes the evaluation, rationale and arguments for implementing the Mangar ELK. Please note it includes some externally sourced statistics from 'Uni search, staff surveys of a small sample group, an analysis of activity and demand within Surrey, a representation of staff accident statistics and the case study itself. I hope you find this helpful, personally I cannot advocate use of the ELK strongly enough.
As a trust we are exploring the possibility of rationalizing response to 'assist only' lifts, particularly to nursing homes and the like, as well as using the ELK as an aid to reducing manual handling of equipment such as long boards and scoop stretchers, where appropriate, in non-time critical situations – J.Wand (S.R Para) Unison Branch Health and Safety Officer
Graphical Representation of Accident and Injury within Surrey Ambulance Service for the year end April 2001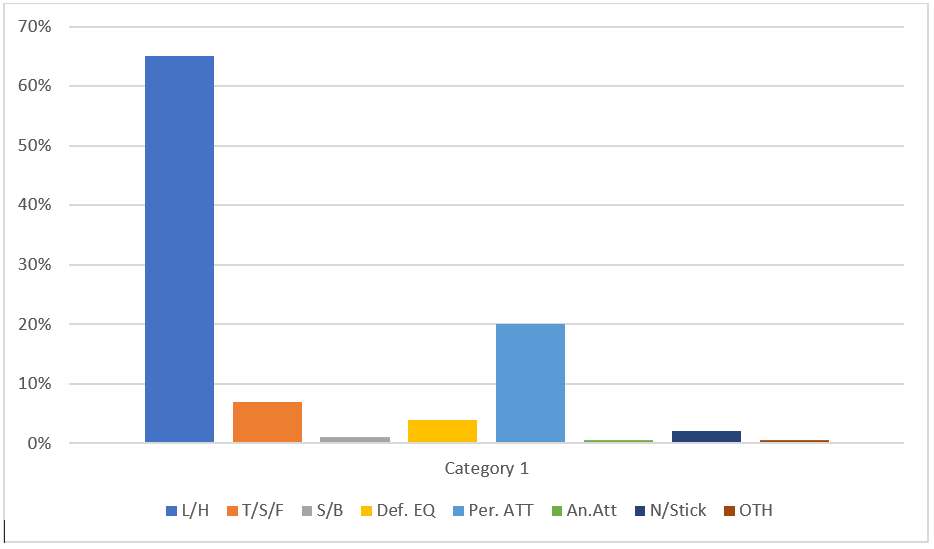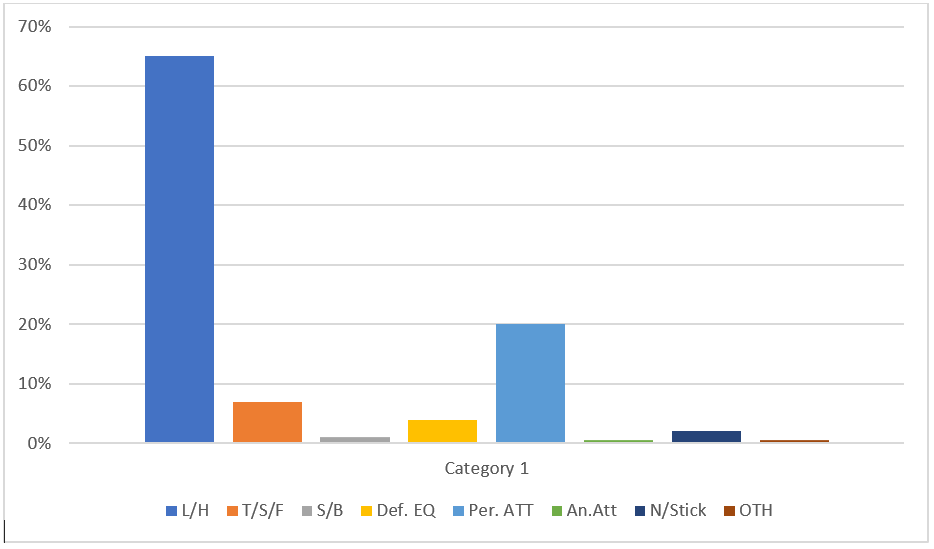 UniSEARCH Data
Per Capita there are more personal injuries in Ambulance services than in mining and construction annually
85% of Ambulance staff retire early due to ill health
Of those who do reach normal retirement a huge % die within 5 years
Surrey Ambulance Branch Survey
The following questionnaire was intended to show a snapshot of life within the service. It was confidential and anonymous…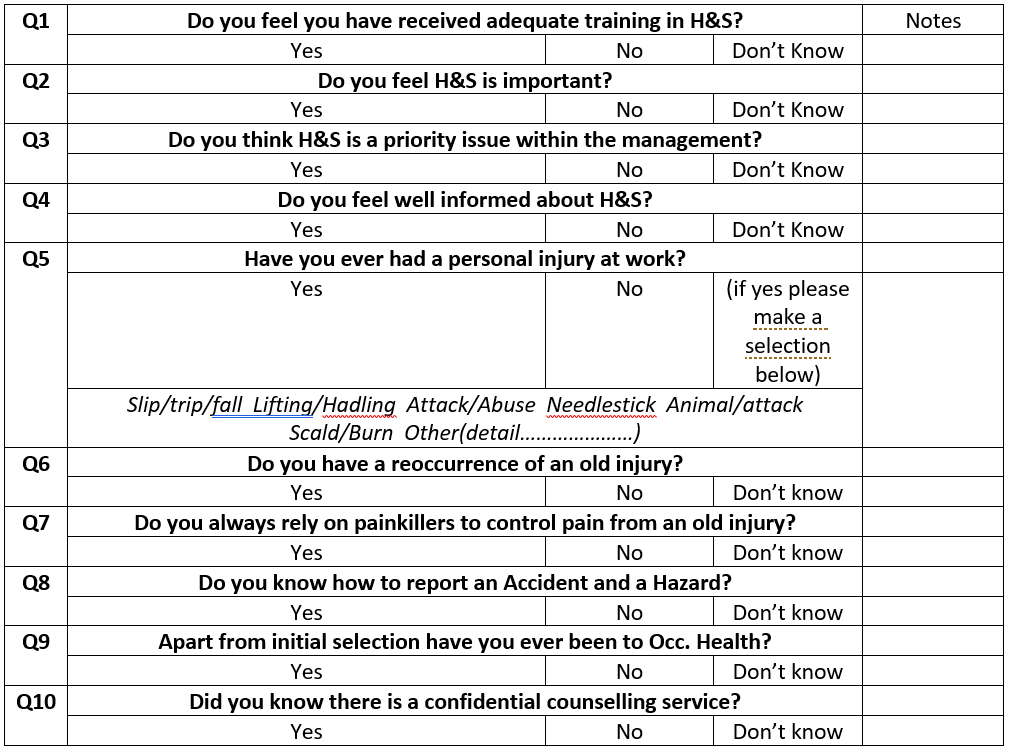 *Example of survey sent to Surrey Ambulance Crews
Graphical Representation of Survey Results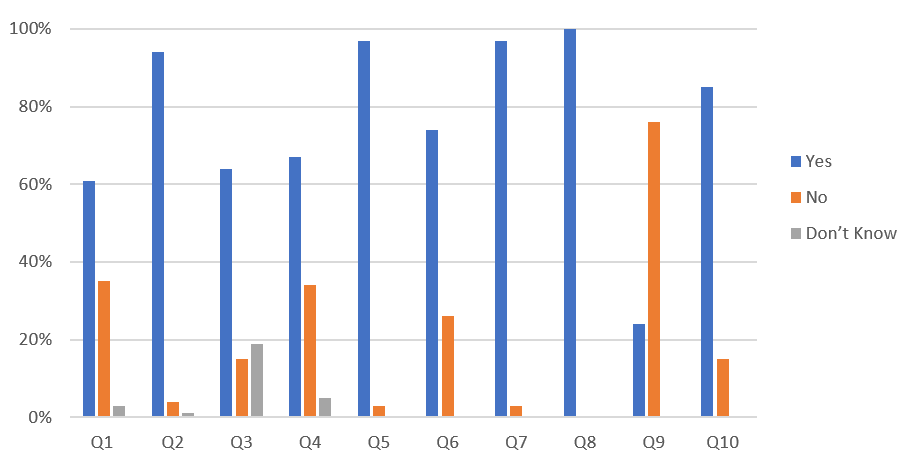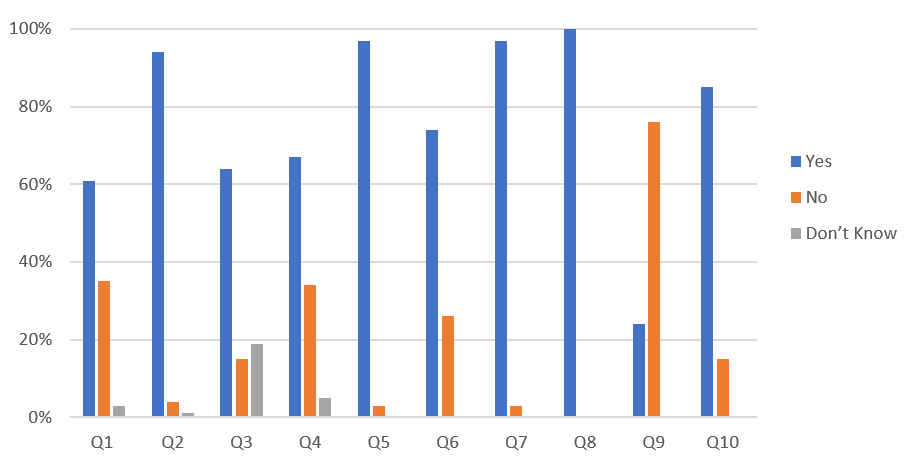 Of the members surveyed there was a 58% return of questionaries' within the time frame given. The sample size entailed distribution to all the stations within the eastern part of the county; a sum total of 184 questionnaires to all grades of "road staff" throughout the nine locations.
One of the alarming trends to notice is that 97% of staff have suffered personal injury at work, of those 65% have ongoing problems and virtually all rely, on a regular basis, pain relief to mask their symptoms. However only 24% have had consultations with Occ. Health.
The Rationale
During the summer of 2000 Surrey Ambulance Service undertook a review of the entire manual handling issues with Risk Analysis in mind.
Not surprisingly one of the most common 'lifts' that was performed by any ambulance service was that of 'Assist Only" lift; predominantly a social service as the patient neither requires treatment or hospitalisation but quite simply is unable to get up without help.
Traditionally this would be achieved by a 'top and tail' lift. This is a very hazardous lift, potentially injuring the crew, for a patient who, to all intents and purposes is not an emergency.
The ELK emergency lifting cushion, manufactured and supplied by Mangar Health, seemed to provide a solution to the problem of getting people from floor level to an elevated sitting position, often also empowering the patient to assist the ambulance crew, rather than being dependent upon them.
Initially Surrey Ambulance Service purchased three ELK's, thinking of the benefits of deploying them onto Single Response Vehicles, strategically placed throughout the county for a trial and assessment period, which would last at least six months before any commitment was made.
It was envisaged that:
Single Responders would be adequately equipped to deal with these assist only lifts, without the need of calling for a second crew, no matter how big the patient. This is an obvious advantage to any ambulance service attempting to succeed in its attainment of the Governments response times.
If ambulance crews required assistance with a lift they could always call for an S.R.V with an ELK rather than place themselves at risk unnecessarily and if appropriate allow them to then take over the task, leading to the early release of the ambulance.
The benefits became apparent as to the use of the ELK in lifting patients from the bath, with some slightly modified operating procedures. Again, this posed a potential hazard for crews who found constraints upon them as to the posture they were able to adopt because of the environment and their inability to apply the kinetics of lifting safely.
The ease with which the ELK can be used belies its success, it has very few serviceable parts giving it the advantage of not having long drawn out or complicated maintenance schedules and instruction of its use are so simple that it has an almost insignificant cost to familiarise the staff required to be taught its operation.
During the assessment period, namely October 2000 until December 2000, the ELK was fully utilized in all the environments an ambulance service routinely finds itself being called to. At no time during its use had the ELK given any cause for concern; all requests for advice and information were readily forthcoming and efficiently dealt with by Mangar Health.
Surrey Ambulance Service was so impressed with this product after the initial trial that it intended to introduce the ELK to the rest of its A&E fleet, initially to the remaining Single Responder Vehicles with the ultimate aim of having one on every emergency vehicle in the near future.
The Case Study
In order to gain some recognition for the product after a very successful trial, it was necessary to prove a need to the Ambulance Service Management.
I had to balance cost with need, suggesting appropriate implementation plans and training provisions before I would feel confident about taking my findings to the Director of Operations and the Trust Board.
I decided to use the plight of an Ambulance Technician from Dorking Ambulance Station to "create a need".
The young lady in question was 26 years old, very strong physically (a black belt in Judo) and had a good level of absence until the incident detailed below.
She, along with her crew-mate, had been called in the very early hours of the night to an elderly male who had fallen from bed and was uninjured. He was however unable to get up unassisted. During the lift our gallant young heroine experienced lower back pain.
She had torn some of her lumbar region muscles.
This lady spent the next five months recuperating and although she was recovered enough for a full range of duties upon her return to work, she will, alas, always be susceptible to back problems.
It was difficult to ascertain financial costs to the Service at the time, due to the fact of an ongoing claim, however taking just her basic wage, overtime payments for crews to cover her shifts, the costs for rehabilitation and vehicle down time – there was quite a formidable argument.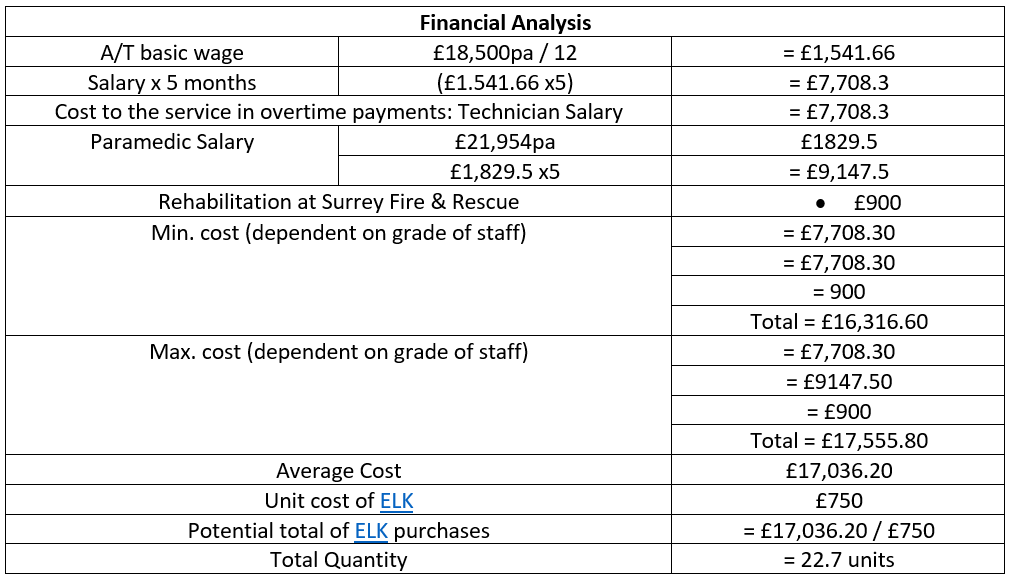 Within Surrey Ambulance service this would represent one third of the Operational Fleet!!!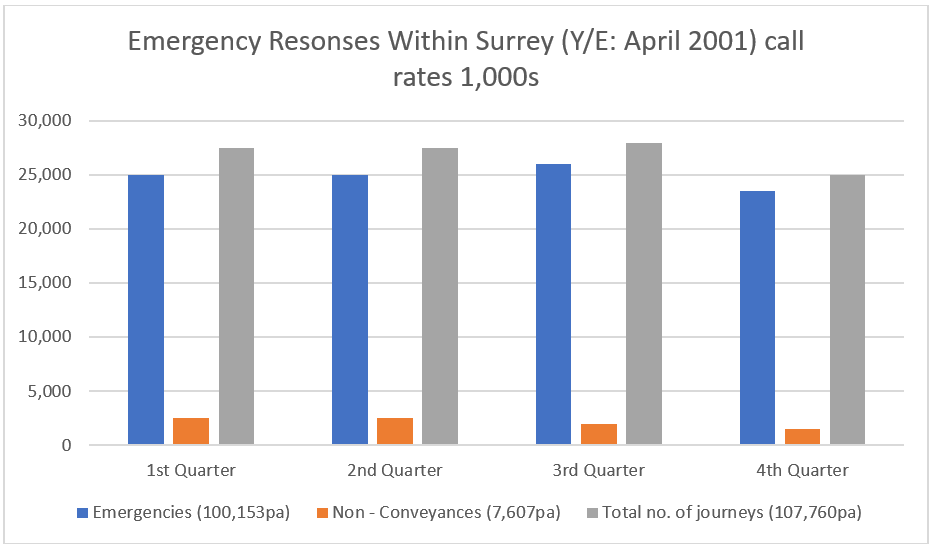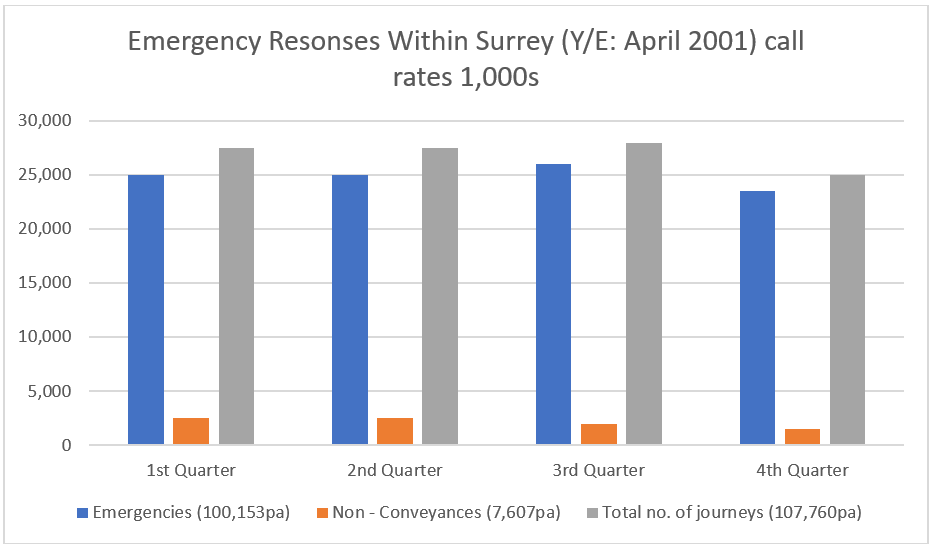 The Future: A Truly Uplifting Experience!
I had made recommendations that the ELK should ultimately be introduced across the entire fleet, to also include five spares and two for the Training School.
I suggested that it should be on a rolling programme;
Firstly to the Rapid Response Cars
Secondly to the twenty 'new' ambulances that were due to arrive in August 2001
Finally, to the remaining Fleet; some fifty further vehicles.
To my surprise – ALL VEHICLES were kited out with the ELK; total cost – £68,000
I know plan to recommend a rationalisation of response to Non Emergency 'Assist' Only calls in institutions such as…
Nursing and Residential homes
Sheltered Accommodation and Day Centres
Social Services and their Carers
And most of all – Hospitals.
Purely and simply they cannot negate their responsibility for manual handling of their patients on to the Ambulance services who are already over stretched but of course they could always purchase an ELK from Surrey Ambulance Service – now a distributor in their own right.
We shall of course attend private dwellings and patients ANYWHERE there is a suspected injury.
If, however there is no injured party at any of the above locations a charge would be levied to assist the patient up.
Finally, after the fleet wide implementation of the Mangar Health ELK this was sent from G M Butson, Director of Operations, Surrey Ambulance Trust to all our Surrey Ambulance Crews:
"During the summer of 2000, the service as part of its management of Health and Safety undertook evaluations of all manual handling tasks regularly carried out by Operational Crews. This was done to try and limit some of the unnecessary lifting and if possible remove or automate parts of the process entirely.
The answer to some of these problems has been the Mangar Emergency Lifting Cushion or the ELK. Whilst it is recognized that the ELK will not be of any use to you at two 'o' clock in the morning in a car, upside down in a ditch. It will be of use to you when removing the general wear and tear on your backs, particularly when your muscles are cold and fatigued. It is fundamentally designed for those 'assist only' lifts that unfortunately we go out to far too often. All of us, at one time or another has had to go to one of these calls, not really an emergency but a 'social service'. The patient not needing hospital treatment.
The alternative until now to 'top and tail' lift or to 'orthodox' lift (by pulling the patient up under each arm with a crew member on each side). Both are very dangerous lifting practices and as such are illegal in hospitals, nursing homes and other health care institutions. Yet we use these techniques daily, some might say, justifiable to some extent when the patient is ill or injured. So what about the 'assist only' lifts, are you willing to injure your back, maybe ending your career, for a patient who may not even require hospitalisation?
THE ANSWER SHOULD BE NO!"
If you've found this case study useful and would like to learn more about how the ELK emergency lifting cushion could benefit you please feel free to get in touch with us here.