A collaboration between Ipswich and East Suffolk Clinical Commissioning Group and Mangar Health has been launched to safeguard the lives of care home residents that fall and promote best practice in post fall management.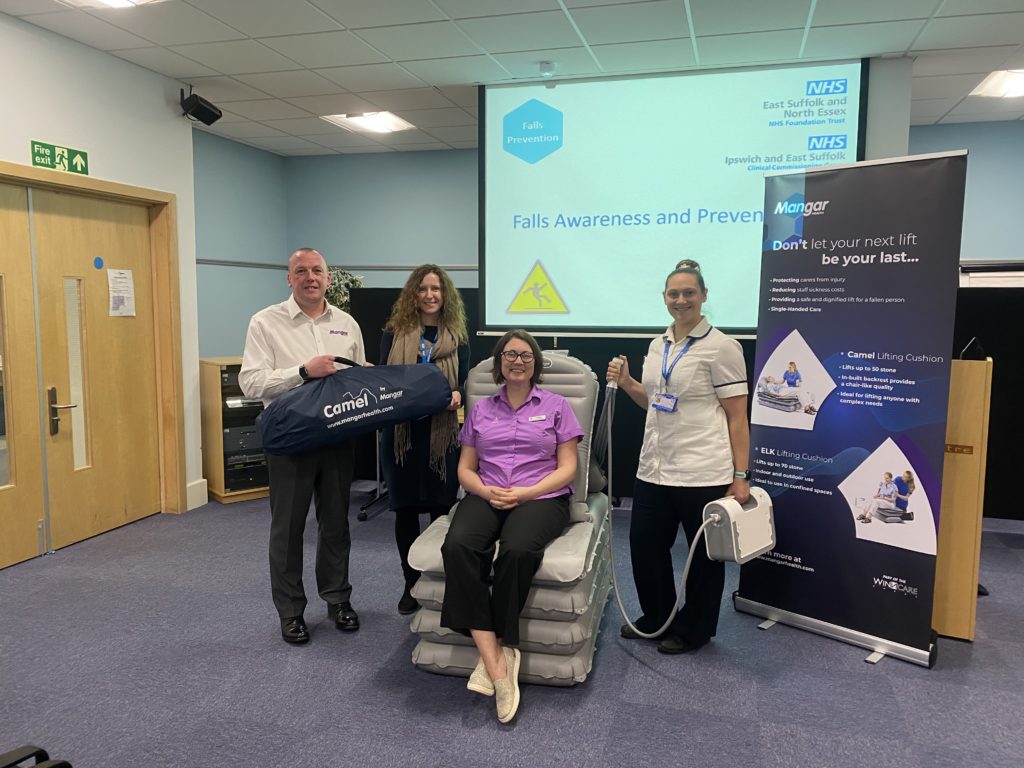 Paul Watts, Senior Business Development Manager at Mangar Health, Cara Twinch, Transformation Lead at Ipswich and East Suffolk CCG, Kristy Smith, Home Manager from St Mary's Care Home on the Camel, and Rebecca Edwards, Senior Physiotherapist.
The initiative is designed to empower care home staff to deliver a robust health assessment after a resident falls and make informed decisions around moving them from the floor.
In the UK, more than 1,000 residents a day living in care homes will fall and although more than 50% are uninjured they need help getting up again.  This ground breaking initiative aligns best practice in post fall management with policies that reduce both hospital admissions and ambulance call outs.
Lisa Elmy from East Suffolk CCG says, "we are committed to supporting the care homes in our region to provide the best possible care for residents.  This initiative provides training in the ISTUMBLE health assessment tool, combined with a Mangar Camel lifting cushion, so providing staff with the skills and equipment they need to move residents safely and with dignity."
Mangar Health CEO Simon Claridge says, "we have been delighted to work with Ipswich and East Suffolk on this initiative and witness the enthusiasm of care staff from across 86 homes in the area who have attended our training sessions.  The UK healthcare sector recognises that avoiding hospital admittance, where it is safe to do so, is critical and similar projects to this one in other parts of the country have already seen care home resident hospital admittance numbers reduce by up to 80%."
Traditionally care homes may call for an ambulance to help with lifting a fallen resident but regularly wait 4 hours or more for support to arrive.  As a non-life-threatening event, these calls are not categorised as urgent, however, the longer an elderly resident is on the floor waiting for assistance, the greater the impact on long term health.  Ideally a resident should be lifted within 10 minutes of a fall in order to reduce the likelihood of an associated condition developing.
Care homes and CCGs interested in the post fall management initiatives should email cbirt@mangarhealth.com