Winter is fast approaching and with the cold creeping in it's time to start thinking about how to care for those around us that are elderly or vulnerable.
With a fifth of the 43,900 unnecessary deaths last winter being as a result of the cold weather, you can see why we here at Mangar Health think this is an important topic to cover, especially at this time of year.
Why Do Older People Need To Maintain Their Body Temperature?
The Office for National Statistics recently released figures demonstrating that there were as many as 24,300 excess winter deaths in England and Wales in 2015/16. It's important for older people to maintain their body temperature at an optimal level of around 37°C, as allowing your body temperature to drop below 35°C is known to lead to serious conditions such as hypothermia and pneumonia.
The elderly may be at greater risk of suffering because of cold temperatures for a number of different reasons, including:
People turn their heating off or down to help save money.

They are less physically aware of the changes in temperature, which could be due to a medical condition.

They may have a lack of appropriate clothing.

They are receiving insufficient nutrition.

They may be living with a memory condition such as Alzheimer's disease or dementia, meaning that the person could easily forget how to operate the heating system or may no longer be able to differentiate between cold or warm (or how to respond).

A lot of people feel the cold more than others do, so their natural reaction could be to turn can up the heating to an unnecessarily high level – potentially leading to overheating, which can be just as detrimental.
With that in mind, we have put together seven of the key ways to help keep both elderly or vulnerable safe during winter.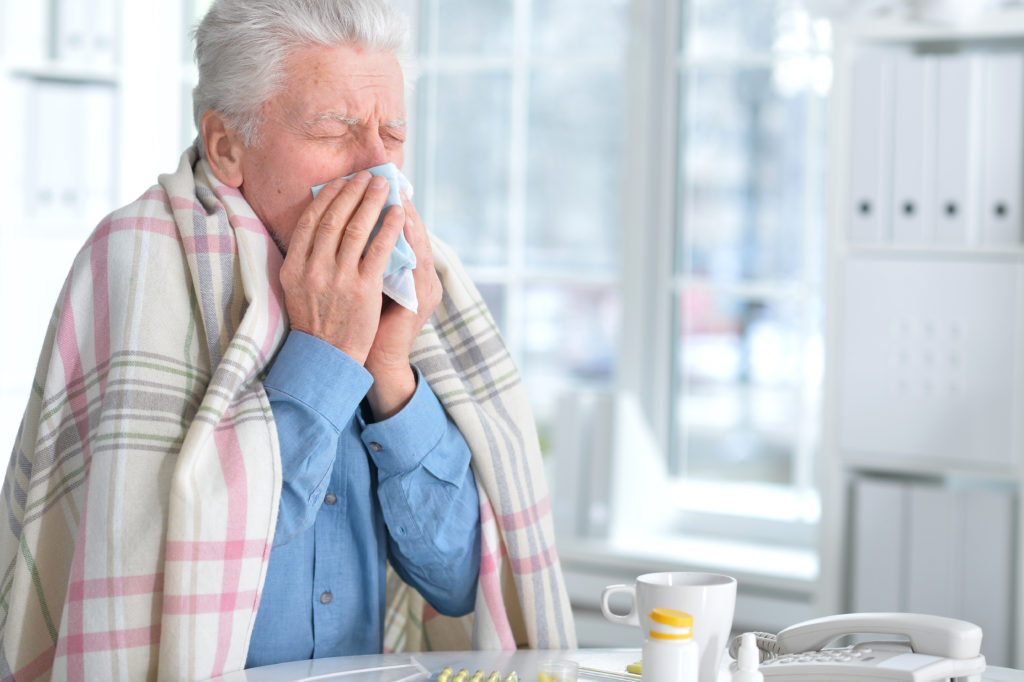 Get The Flu Jab – Not only is catching the flu an unpleasant experience but for those that are vulnerable, it can cause serious, life-threatening illnesses such as pneumonia and bronchitis. In some cases, the flu can result in death.
The elderly and those with long-term health problems are most at risk of catching the flu during winter, so those from the age of 65 are entitled to a free flu jab every year. To find out more information on how to get the jab, you should contact their GP or talk to their pharmacist.
Live A Healthy Lifestyle – Keeping fit and healthy is obviously important all year round, however, it's known that lifestyle can make a huge difference to someone's health during winter.
To help improve health throughout winter months, it is important to:
Have plenty of hot food and drinks

Eat regular, healthy meals

have a diet that is as varied as possible

Eat five daily portions of fruit and veg

Help them stock up on canned and frozen foods, so they don't regularly have to go out when it's cold or icy
Try to Avoid Catching a Cold – Colds and flu are known spread very easily, particularly in colder months. There are many ways to help prevent a cold, with the key one being to always cover your nose and mouth with a tissue when you're coughing or sneezing. Encouraging your elderly relatives and any visitors they may have to do the same is also another proven way to help prevent the risk of catching the flu. Be sure to take a hand sanitiser gel with you when you visit and encourage your elderly relative to do the same when they go out and about.
Stock Up On Over The Counter Medication – Stocking up on over the counter medication between November to February is important as it allows your relatives to have easy access to medication as and when they need it, rather than having to go out in the cold when they're already feeling under the weather.
Keep Them and Their House Warm – Keeping your relatives house warm during winter is incredibly important to their health as a cold house can result in their home becoming damp, increasing the risk of bad bacteria growing. On top of that, a cold house can cause those that are elderly or vulnerable to become extremely ill.
Often, the cost of heating can be an issue for older people as it's a cost they're not used to having to pay each month.  For those that need it, an annual 'winter fuel' payment of £200-300 is available to help people to help with fuel costs. For more information on how to claim your winter fuel payment, click here.
Another way to keep warm during winter is to take regular, hot baths. There is no quicker (and more pleasant) way to regulate your body temperature than through bathing, especially on a cold day as taking a hot bath is sure to warm you up. Here at Mangar Health, we understand that those that are elderly and vulnerable may struggle to get in and out of the bath, which is why we offer bathing aids that allow people to do exactly that. The Bathing Cushion is an inflatable cushion that helps you get into and out of the bath, allowing you to go right down to the bottom of the tub – the best way to benefit from all of the health benefits a hot bath brings!
Dress For The Weather – If it's cool in their home, make sure your relative has got enough thick and comfortable clothing handy, and if needed, that they wear multiple layers. Materials such as wool tend to help maintain a person's warmth, whereas cotton provides better ventilation making it better during the summer months.  It may also be worth investing in some sheepskin slippers as they are both comfortable and great for keeping feet warm.  
Stay Active –  Even moderate exercise can bring health benefits so if possible, try to encourage your elderly or vulnerable relatives to move around at least once an hour.
Hypothermia and pneumonia are incredibly dangerous for the elderly or vulnerable. To help with this NHS Choices offer advice on the signs and symptoms, including what to do if you find someone who has become hypothermic or that you believe may have developed pneumonia.
For more information on how Mangar Health can help those living at home during the winter months, please get in touch.