Freephone today:

0800 2800 485
Bathing Cushion – Mangar At Home
I am 84 years old and I want to keep my independence. That's what the Bathing Cushion does for me. The problem with the plug was dealt with swiftly and I am happy with it, thank you.
Mrs Margaret Thomas,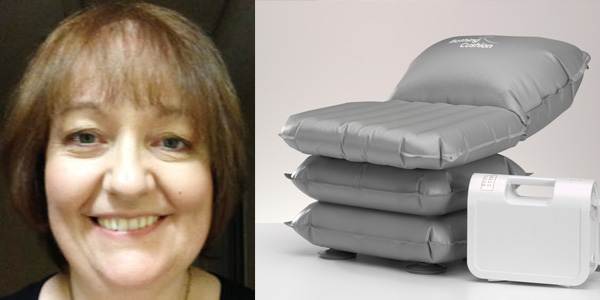 Steph Explains How The Mangar Bathing Cushion Makes Her Feel Normal Again
Mangar Customer, Steph, suffers pain in her knees caused by Osteoarthritis.  This case study, written by OT Kate Sheehan,  identifies how the arthritis affects Steph's everyday life and how using the bathing cushion allows her to bathe and feel 'normal' again. Steph is 51, lives with her partner in Kent, [...]
Bathing Cushion
The Mangar Bathing Cushion is the ideal single handed care solution for those who have difficulty getting in and out of the bath. The lightweight and portable bathing cushion lowers you into the bath, then raises you back up so that you can easily get out after a relaxing, hot soak.
Benefits of the bathing cushion
The bathing cushion is an extremely comfortable and safe bathing aid which enables people to lie down at the bottom of the bath. It's an affordable option for most and there is no need for expensive bathroom alterations as the cushion can be removed after every use.
Who can use it?
Those who suffer from limited mobility and struggle getting in and out of the bath will benefit from using our bathing cushion, as it is designed for home settings where a relaxing and dignified bathing experience is required. It safely lowers you into the bath and raises you up when needed, all at the touch of a button.
If you're in a situation where a supporting carer is needed, they can easily operate the cushion without the need for any extra cables.
As it can easily be removed after use, the Mangar Bathing Cushion is particularly useful in a shared bathroom environment.
Special features
The cushion is portable, with the option to purchase an additional storage and carry bag

It uses suction cups to stay in place, making it easy to install and remove

To increase the comfort while bathing there is the option to leave air in the backrest

It is easy to clean and fully waterproof – including the hand control

The Mangar Bathing Cushion is battery operated so there are no dangerous power cables

It can lift up to 150kg (24 stone)

The cushion is extremely safe, only lowering a person into the bath if there is enough battery power to raise them back out again.
Read More
Buy the Bathing Cushion from our online store
Order today with free UK delivery.
Bathing Cushion – Mangar At Home
Only £550 with VAT Relief.
Lowers you down and raises you back up again – all at the touch of a button. The Bathing Cushion is ideal if you have difficulty getting in and out of the bath. Perfect if you have reasonable upper body stability, the inflatable Bathing Cushion gently lowers you into the bath and raises you back out when required, all at the touch of a button.
This product includes the Airflo 12 compressor.
Technical Info
| | |
| --- | --- |
| Maximum User Weight: | 150kg (24 stone) |
| Seat Height (min/max): | 2cm/40cm |
| Seat Depth: | 44cm |
| Backrest Width: | 54cm |
| Backrest Depth: | 33cm |
| Airhose Length: | 1.8m |
| Weight: | 2kg |
"Your customer service is all that one expects: courteous, prompt, efficient. I was very satisfied with your response to my recent problem."
John Dowd,
"Very good products and very helpful!"
Mrs R Matthews,
"We have already recommended Mangar to people we have met."
Mrs K Bellamy,
"I was impressed by Mangar's efficient and pleasant manner in dealing with my requests."
Richard Connell,
© 2018 Mangar Health. All Rights Reserved. Mangar International Ltd, Presteigne, Powys, Wales, LD8 2UF, UK