In our years of experience, we have come to learn that being able to enjoy a relaxing soak in the bath is not so much a functional requirement of daily life but a really important part of our health and well-being.
It is therefore quite fitting that bathing is where Mangar began its journey to help people remain independent for longer. We invented the first powered bath lift back in 1981 and now our bathing products sell in their thousands across the globe.
Mangar Bathing Aids
The purpose of our bathing aids is in many senses quite simple – they help people with limited ability get in and out of the bath.
Looking more closely at their benefits, we see they also serve to protect people's dignity and independence which is a key feature of health and well-being.
Indeed, the benefits of bathing cannot be overlooked – it is a therapy in itself which can help with pain relief and relaxation and should not be limited to the more mobile amongst us.
Case Study
In the words of Mrs. Jackson from Llandrindod Wells: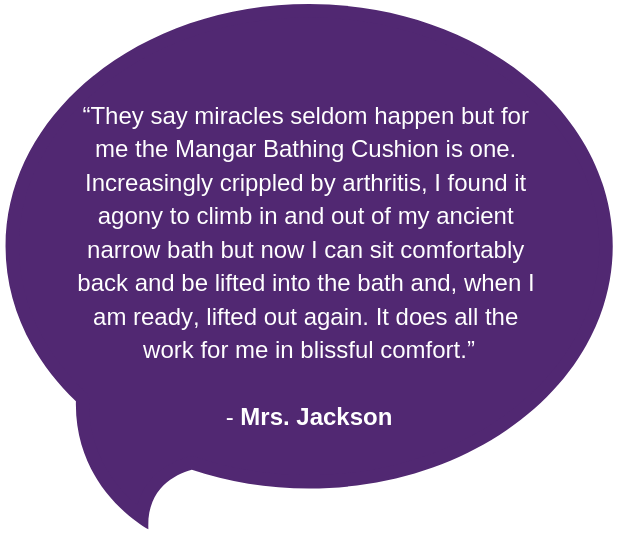 We are delighted to have helped Mrs. Jackson – and while we would never claim 'miracles', we are without doubt committed to creating products that not only make routine easier but really add to and enhance the quality of life.  Our range of products includes both rigid and inflatable bath seats and can be brought into a home without the unwelcome and costly disruption of installing walk-in baths, showers or bath hoists.