Mangar Health recently attended The Emergency Services Show at The NEC Arena to launch their new range of cleaning products and reveal the new look of their Emergency Lifting Cushions.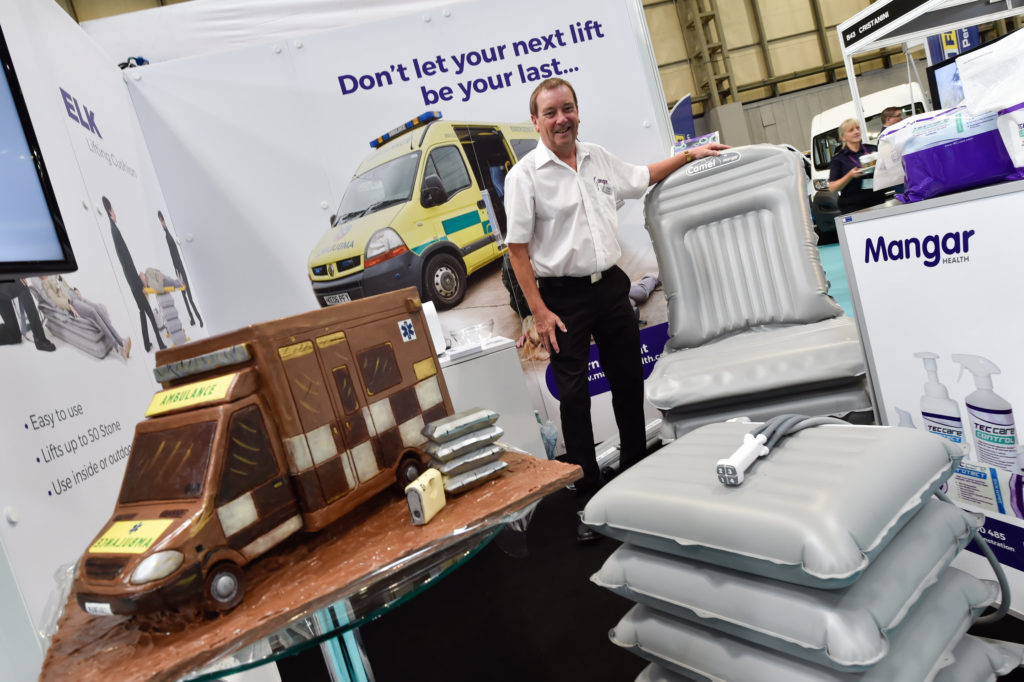 This wasn't all that Mangar Health had to offer at the show, they brought their 'Choc City Ambulance' made entirely from milk, white and dark chocolate and gave attendees the chance to win it.
Paul Brittain, Senior Business Development Manager, who attended the Emergency Services Show and demonstrated the Mangar Health products said, "The show has been great! Everyone we've spoken too liked the new look of our Mangar ELK and Camel Emergency Lifting Cushions with their new Riverseal® antimicrobial coating and the chocolate ambulance has gone down a treat."
"There was a great atmosphere at the show and it was good to hear positive feedback from professionals who actively use our products in their everyday job."
Mangar Health's new generation cleaning products which was being launched at the show included TECcare PROTECT, Skin and Hand Moisturising Sanitiser and TECcare CONTROL, Air and Surface High-Level Broad-Spectrum Cleaner/Disinfectant.
Paul Brittain continued, "Our new cleaning products have been well received at the show too. Emergency service workers know the importance of environmental hygiene and stopping contamination. Our TECcare products ensures this because when equipment or your hands are cleaned with our TECcare products they're 94% cleaner and EBME efficiency increases by 52% when decontaminating."
To win the 'Choc City Ambulance' attendees were asked to give their details to be in with the chance to win. Mangar Health are pleased to announce the winner of the chocolate ambulance was Jonathan Wilson, Clinical Equipment Manager from Welsh Ambulance Services NHS Trust.
Paul Brittain, explained, 'If you didn't get a chance to visit us on Stand C36, take a sample of our new cleaning products, or have any further questions please don't hesitate to get in touch."
For more information regarding the Mangar Health's TECcare products, Mangar ELK and Camel Lifting Cushion or anything else please call 0800 2800 485, email info@mangarhealth.com or visit www.mangarhealth.com