If you tuned into A&E On The Road shown on BBC One on Tuesday, you would have seen paramedic Kathryn Davies on route to a pensioner who had fallen in his back garden in Stourbridge.
On the programme, which aired on the 27th June, paramedic Kathryn Davies from the West Midlands Ambulance Service, had just been called out in the early evening to an elderly gentleman who had fallen over and was having difficulties getting back up.  
Kathryn Davies, a West Midlands paramedic explained, whilst on route to the scene; 'He is unable to get up and off the floor and it is reported that he has some sort of back injury.'
As Kathryn arrived at the house she was met by the patient's daughter, Heather Oakes, who was also unable to get her father off the ground; 'Luckily he brought his mobile phone out with him. I had a phone call when I was driving home saying he had fallen in the garden, so I came here and he was out in the garden, shaking, very cold and said his hip was hurting and I couldn't get him up so I phoned an ambulance.'
Malcolm Smallman, who is 85 years old and an avid gardener, had been out watering his plants in the garden when he'd decided to sit down on a chair on his patio. He'd fallen off his seat taking both the table and the plants on the table down with him.
As Kathryn assessed the patient she found no initial injuries but the patient was visibly distressed and shaking and couldn't get himself up and off the floor. As the paramedic was unable to lift Malcolm on her own, Kathryn called for assistance, 'I'm going to ask for an ambulance response because the patient is outside in the garden and he is quite cold. So ambulance response and we're going to need a crew with a Mangar Elk please'.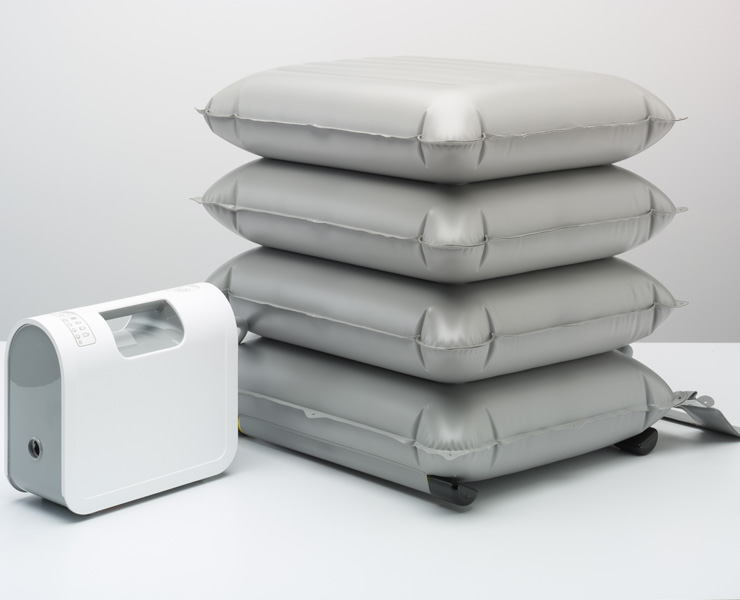 Kathryn went on to explain the normal procedure involved when needing to lift an elderly person, 'When we have elderly people on the floor we have to look at ways of getting them upright safely. All the ambulances now carry a piece of equipment called a Mangar ELK. It's a big lifting cushion and it's the only way now to safely lift somebody up and off the floor.'
The patient had been on the floor for approximately 45 minutes before the ambulance arrived and they were able to easily and safely lift Mr Smallman up from the ground with a Mangar ELK.  As the patient was elderly he was taken to A&E and was later given the all clear.
A&E on the road follows the paramedics and doctors of the West Midlands Ambulance Service over a six-month period. The next episode will be shown on Sunday 2nd July at 8pm.  
#AEOnTheRoad
If you'd like to see this episode you can view it on BBC iPlayer here. You can also view another episode regarding the Mangar ELK here. Or if you'd like to find out more information regarding the Mangar ELK then please click here.