Leading falls management experts, Winncare, has launched a new release of their Post Falls Assessment Tool, ISTUMBLE® 2.0 app. This exciting development has seen a full design overhaul, resulting in a much-improved user experience supported by DTAC compliance. Used widely in care homes, the app now enables users to record information around each fall they support, which is ideal for busy carers working in high pressure environments.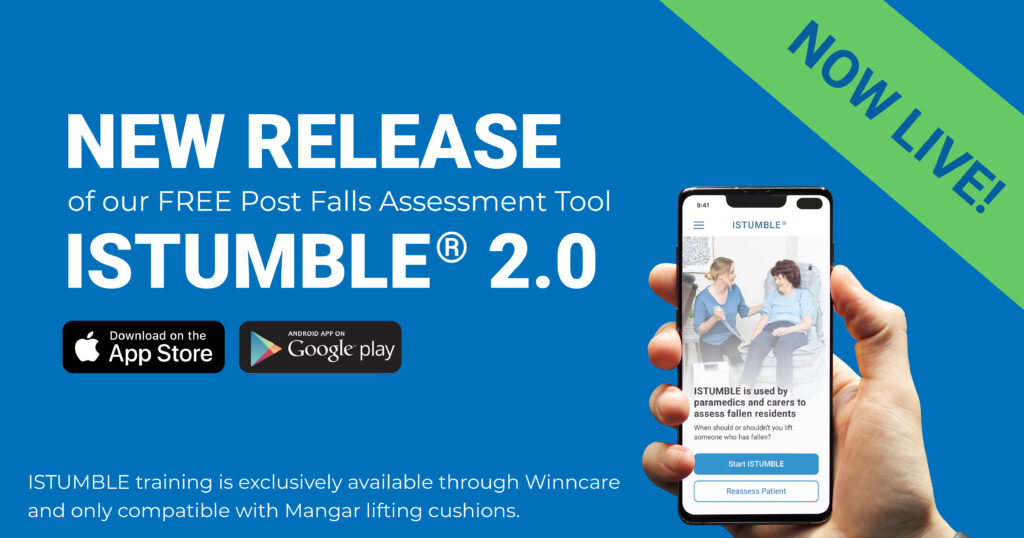 Originally developed in partnership with the Welsh Ambulance Service, ISTUMBLE® 2.0 is used to determine the appropriate course of action in the occurrence of a fall.
5 million people will fall every year and ISTUMBLE® 2.0 empowers care givers to make good decisions around when to lift a faller or when an ambulance callout is necessary. The demand on the ambulance service increases considerably over the winter period and wait times for non-urgent callouts can average 3 hours or more.
The ISTUMBLE® algorithm has shown to reduce the length of time that a person is left on the floor and hospital admissions. This minimises the potential devastating effects of a long lie, decreases the amount of unnecessary emergency calls and reduces transfers on to acute care.
Now DTAC compliant, the app has been rigorously tested for both clinical risk and digital security.  It is a nationally recognised tool and has already had over 140,000 downloads. It is also accredited by Orcha for use within the NHS.
Simon Claridge, CEO at Winncare UK, said, "We're delighted with ISTUMBLE® 2.0. We know users will be pleased with the improved functionality and enhancements of the original app. We continue to be dedicated to improving the health outcomes of people who have experienced a fall and working in close partnership with the emergency services to achieve our joint goal."
ISTUMBLE® 2.0 is available and free to download on the Apple Store or Google Play Store. If you require any further information or interested on how you can have your own bespoke ISTUMBLE® app with tailored customer-specific features, please contact Daniel.colclough@winncare.uk.