Physiotherapist Caroline Southgate is the founder of domiciliary care company Doris Jones. Like many health and social care organisations, COVID-19 has brought a new set of challenges for the business. An increased focus on infection control in order to protect both staff and client from this new virus led to some lateral thinking.
Even before COVID-19, Caroline and her team were regularly presented with caring for their elderly clients who had fallen over and spent time on the floor waiting for an ambulance to assist.  The pandemic exacerbated the risk in these situations as the need to shield and restrict contact with others became a priority.
Caroline used her clinical skills to explore opportunities to reduce risk, safeguard her clients and find a better solution for post fall care.   A recent funding award from the COVID-19 Infection Control Grant enabled Caroline to purchase a Mangar Camel Lifting Cushion and introduce a robust post fall management processes into her business.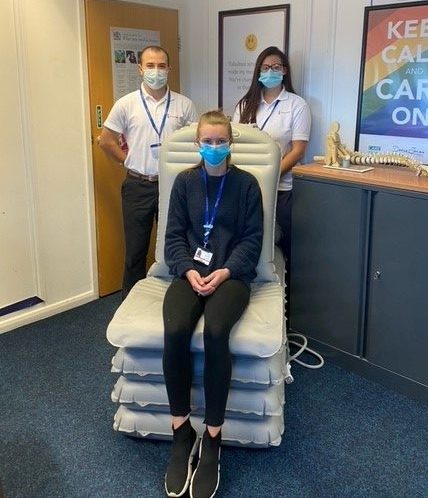 Caroline explains, "As a physiotherapist I'm always keen to introduce physio and rehabilitation skills into our processes. We were due to have our first physiotherapy students from the University of Essex and had created a project that concentrated on developing a falls risk assessment process. Post fall management is something I have been wanting to investigate further for a long time, as I could see the benefits improvements would bring in this area of care.
"As we began the planning process COVID-19 hit and of course the scope of the project had to widen to reflect the additional associated issues."
As part of the grant payment, Caroline had to devise a process to reduce the footfall of healthcare professionals coming into a clients' household. Southend Council agreed that the spend was a good fit for the Infection Control Fund.
Caroline says, "The project included working with other healthcare professionals who need to visit our clients' houses to deliver care.  Some care companies have taken on district nurse tasks and we certainly have added some physio and OT tasks."
"I also noticed that when paramedics arrive in someone's  home there is a possible risk of cross infection from their cases. It seemed logical to me that within a falls prevention and management process it would be more efficient if our team had the capacity to assess our clients for injury and move them safely without calling the ambulance service for support.  Nearly 50% of the elderly that fall are uninjured and need no further help once assisted back to their chair or bed, or to stand up again."
Caroline introduced the ISTUMBLE app to her team and implemented the process to use it to assess people in their care.
"It is so quick, just a 2-minute check to determine whether an ambulance is needed or not.
"It is a really sensible solution for a non-injured person on the floor. If it avoids one of our clients being admitted to hospital or waiting several hours on the floor for an ambulance team, then as far as I'm concerned it's worth it."
Busting the myths
Caroline adds, "There are a lot of myths around lifting or not lifting and the default position is that 'we have a no lift policy, so we don't lift people of the floor'. Under a 'no lift' policy however, it is still  acceptable to encourage someone to get themselves up off the floor if they can do so. The bigger challenge is to decide to  lift using a piece of equipment provided in the household, for example a hoist. So we thought adding an assessment and a Lifting cushion would be just as acceptable.
The next issue was to determine if Doris Jones is insured to lift using their own lifting equipment.
"I spoke to our insurers who agreed that with comprehensive staff training, supervision and equipment maintenance we are covered for this activity.
"It has been a very logical and deeply thought out process. Our findings clearly indicate that lifting someone from the floor,using the appropriate assistive equipment, is completely safe and effective for our elderly clients in their own homes or gardens. I am almost kicking myself thinking why didn't I do it before?
"It's perfectly safe. It's perfectly doable. It's perfectly trainable. It's perfectly insurable."
"I was just as much tied up in the myth that home care companies don't pick people up off the floor and even spoke about this when I've done manual handling training in the past. Then the ISTUMBLE health assessment tool comes along, and it's changed my thinking. Our policy is now 'lift safely with the right assessment and the right equipment'.
Using a Camel Lifting Cushion and the ISTUMBLE health assessment tool helps prevent a person being on the floor for 4 – 5 hours waiting for an ambulance and prevents all the complications associated with that.  It decreases the risk of COVID-19 infection by keeping healthcare professionals out of the home and the faller being unnecessarily admitted to hospital.
Caroline concludes, "I am sure that  families and clients will be grateful that we are able to assess the situation and are able to lift their loved one off the floor swiftly, with confidence, instead of knowing they've been on the floor for hours waiting for an ambulance to arrive.
Applications and funding for COVID Infection Control ends March 2021.