As Assisted Living Facilities are a business and not government-funded or a charity it's important to keep an eye on the financial incoming and outgoing.
A big outgoing, which you might not be aware of, is the expense related to staff sickness.
In fact, 'Last year care workers took nearly 20,000 sick days due to non-fatal work-related injuries.' (Bureau of Labor Statistics).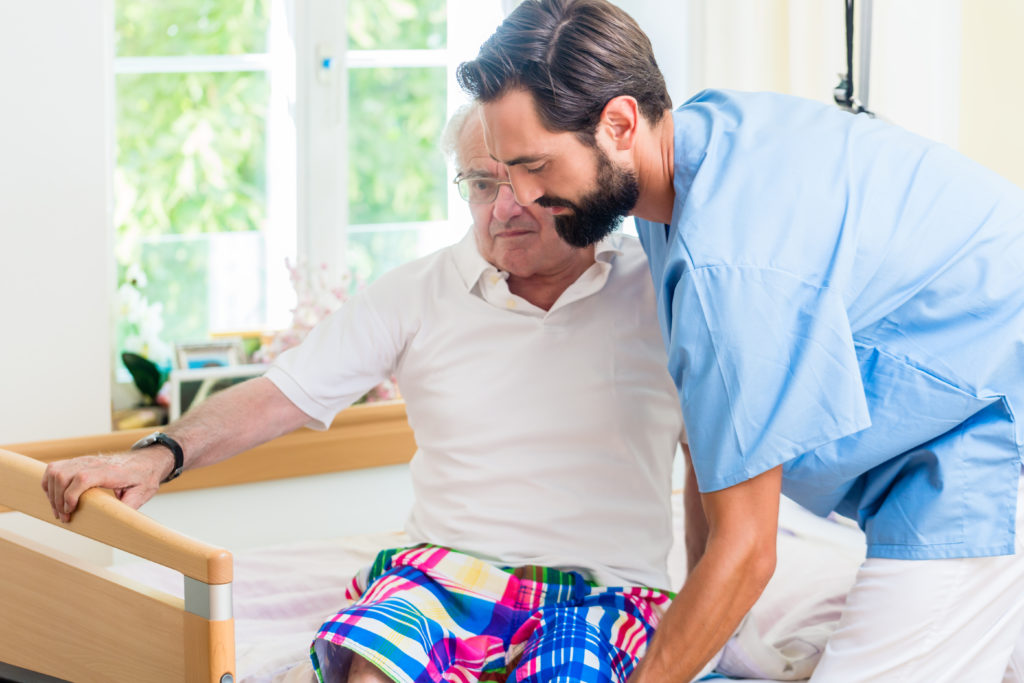 Ill-health costs a lot of money, whether that's because of paying sickness pay, hiring fill-in staff or maybe even financing a costly lawsuit due a member of staff being injured whilst at work…
Musculoskeletal injuries (MSDs), which includes disc degeneration or prolapse, lower back pain, pulled or torn ligaments, nerve damage and herniated discs and strained muscles are the biggest risk which healthcare workers face due to manual handling.
"Direct and indirect costs associated with back injuries in the healthcare industry are estimated to be $20 billion annually."
           Collins JW, Nelson, A Safe Lifting and Movement of Nursing Home Residents, Cincinnati, OH: National Institute for Occupational Safety and Health.
If you're wanting to protect your business, then you need to protect your employees. Carers are frequently using their own strength to provide manual assistance whether that's lifting, moving or repositioning residents, which are resulting in MSDs.

"Healthcare workers often experience musculoskeletal disorders (MSDs) at a rate exceeding that of workers in construction, mining and manufacturing."

Centers For Disease Control And Prevention (CDC)
When you put into consideration that today 79,452 aged over 65 will fall (Centre For Disease Control, CDC) that's a lot of manual handling and a lot of healthcare workers potentially getting hurt.

"The rate for work related back injuries among care workers is

over five times the national average."

Health and Safety Executive, 2016
The National Institute for Occupational Safety and Health (NIOSH) carried out a lab and field study which identified how to safely lift nursing home residents by removing the need for manual handling and exertion. NIOSH completed a large field study to determine if lifting equipment would be a good 'intervention' and have a positive effect on reducing injury to health care workers.
The results are as follows:
"During the 6-year period, 1,728 nursing personnel were followed before and after implementation of the intervention. After the intervention, there was a significant reduction in injuries involving resident handling, workers' compensation costs, and lost workday injuries."

"When injury rates associated with patient handling were examined, workers' compensation claims rates per 100 nursing staff were reduced by 61%, Occupational Safety and Health Administration (OSHA) recorded that injury rates decreased by 46% and first reports of employee injury rates were reduced by 35%."

The Occupational Safety and Health (NIOSH)
We'd like to introduce you to our Emergency Lifting Cushion which will help you to be Safe Today and Save Tomorrow.
The Mangar Camel is an emergency lifting cushions designed to provide a safe and dignified lift to a fallen resident whilst being recognised for reducing the risk of injury to caregivers.
If a resident has fallen over they can either shuffle, be rolled from the recovery position or moved with a slide sheet onto the Camel where they'll be assisted back to their feet with a simple touch of a button.
The lifting cushion is able to lift between 700 lbs with ease, yet still remain compact, light and portable.
If you'd like more information regarding the Mangar Camel Emergency Lifting Cushion and would like to request a free demonstration, please click here.