What Is TECcare CONTROL?
TECcare® CONTROL is a high-level disinfectant technology that offers safe, effective, user friendly, single step cleaning and disinfection for the healthcare industry. The TECcare® CONTROL technology is based around the quaternary ammonium compounds didecyldimethyl ammonium chloride (DDAC) and benzalkonium chloride (BAC) with an adjuvant effect that enhances its antimicrobial efficacy.
Just How Effective Is TECcare CONTROL Against Microbes?
TECcare has undergone comprehensive testing at independent, accredited laboratories which has demonstrated that all the products offer a broad-spectrum high-level disinfection.
The TECcare® CONTROL range
The complete TECcare® CONTROL range offers you a one stop shop cleaning and disinfection solution for all hard and soft surfaces, environments and equipment.
The entire range consists of:
Wipes (Three different variants are available):-
Standard – a polypropylene wipe for normal, everyday cleaning and disinfection.
Textured – a highly textured polypropylene wipe for enhanced removal of dirt and organic matter.
Maceratable/flushable – a natural cellulose wipe for everyday cleaning and disinfection. Highly absorbent, fully maceratable and degrades within ten days.
Trigger sprays – perfect for cleaning large surfaces and in situations of heavy soiling.
Flip top bottles – perfect for sanitary wear.
Aerosol surface spray – great for inaccessible areas.
Concentrate – easily dilutable and perfect for use with all cleaning systems including mops, cloths, microfibre etc.
Self-propelling aerosol misting systems – for total room disinfection:-
250ml aerosol for rooms up to 30m3
450ml aerosol for rooms up to 50m3
VorTEC™ fluid – based on the TECcare® CONTROL technology, VorTEC™ fluid undergoes specific manufacturing processes which optimise its performance when aerosolised through a mains powered TECcare® VorTEC™ misting system. TECcare® VorTEC™ can disinfect rooms with capacities ranging from 100m3 to 600m3. All TECcare® CONTROL products are fully compliant with all current legislation including the Registration, Evaluation, Authorisation and Restriction of Chemicals (REACH) Directive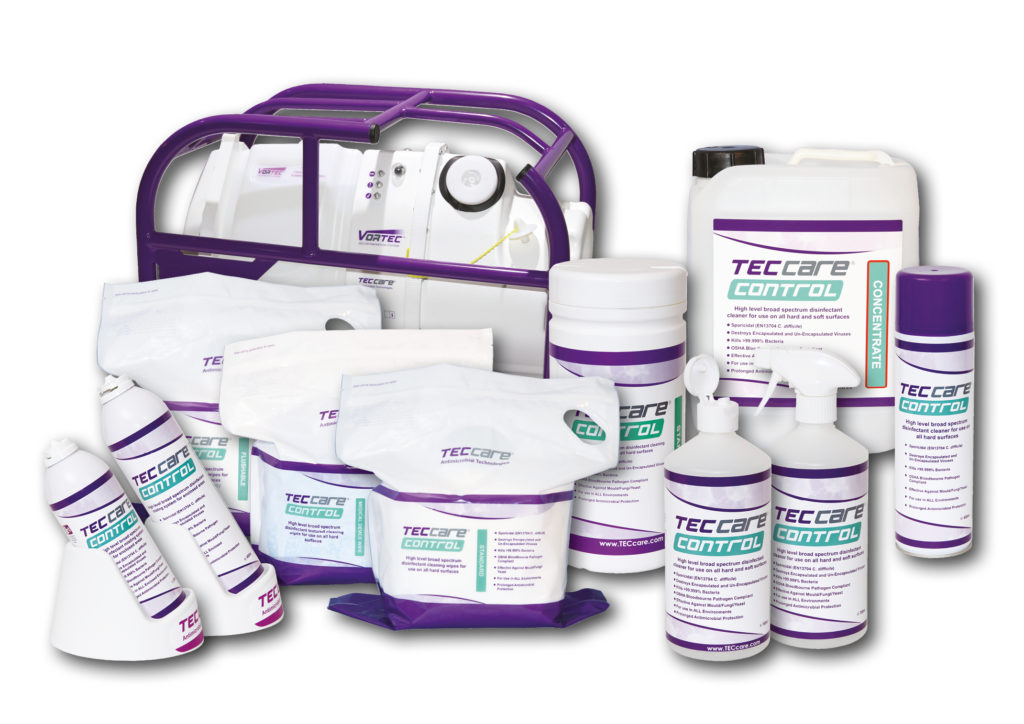 How does TECcare® CONTROL kill micro-organisms
TECcare® CONTROL kills microorganisms by simultaneously attacking multiple microbial structures and components which are all essential to life. The result is a rapid microbial kill of bacteria, viruses, fungi and spores.
Why, where, when and how should I use TECcare® CONTROL?
Why… Improving environmental cleanliness will always reduce the risk of infection, cross infection, contamination and spoilage etc. whilst also reducing the number of microbes transferred onto people's hands. TECcare® CONTROL products are particularly effective in the very challenging healthcare setting where their use has led to cleaner clinical environments when compared to both standard cleaning and chlorine dioxide based cleaning and disinfection protocols.
Where… TECcare® CONTROL is designed for use in situations in which there's a clear need to create and maintain the cleanest possible environment whilst also reducing the bioburden (i.e. number of microbes present) in order to interrupt key microbial transmission pathways (surfaces and/or air) and also reduce the risk of infection, cross infection, contamination, spoilage etc.
When… To get the best results, TECcare® CONTROL should be used frequently (ideally daily) and it should be used in place of your standard cleaning and/or disinfection products, becoming an integral part of your normal cleaning processes.
How… TECcare® CONTROL products clean and disinfect simultaneously and therefore only require a single stage process to achieve the highest levels of cleanliness. The wipes, sprays and concentrate are very simple to use and will fit seamlessly into your existing cleaning processes with little or no training required. The more specialist misting systems will require basic training (approximately 1 hour) to ensure they are used correctly and deliver the results that you require.