With nearly 250,000 falls reported from acute and community hospitals in England and Wales each year,[i] despite considerable and sustained prevention efforts throughout NHS Trusts, it seems the challenge of managing post fall outcomes will continue for some time to come.
The cost of treating fall injuries in hospitals in the UK is estimated at £630 million per year[ii].  Most falls do not result in injury, although patients can have psychological problems if the fall is not correctly and quickly managed.
Patients do not always realise their risk of falling whilst in hospital even though people over the age of 65 years and those 50 years or older with two or more co-morbidities are at high risk. A Cochrane review published in 2018 found little robust evidence in support of hospital falls mitigation interventions and concluded that 'multifactorial interventions may reduce the rate of falls, although this is more likely in a rehabilitation or geriatric ward setting.'
Different intrinsic and extrinsic factors have been identified to be contributing to falls in hospital such as the patient's clinical condition, medication, as well as extrinsic factors such as lack of proper maintenance and design of medical equipment, failures in communication, education, and team working.
The fact is that however good the intentions around fall prevention methods, people will still fall.  According to a study supported by the Agency for Healthcare Research and Quality, many falls in hospital happen when the patient is alone or involved in elimination-related activities (for example, walking to or from the bathroom or bedside commode, reaching for toilet tissue, or exiting a soiled bed).
The regularity of falls in hospitals is mitigated by strict manual handling protocols to protect staff from musculoskeletal injury acquired through moving patients.  All hospital staff are trained in techniques for moving and lifting patients and supplied with appropriate lifting equipment.  New to the market is the Mangar Supine Lifting Devices Rhino and Swift, designed in collaboration with industry experts to lift people that fall.  The product is the first to be launched with an entirely portable pump, which means, if patients don't fall near a mains point, the product can still be used effectively.
Falls can happen in car parks, corridors and bathrooms as well as hospital wards.  Equipment that is portable is essential to ensure patients are lifted quickly and safely.
For more information on the Rhino Lifting Cushion and Swift Transfer Slide visit our product page. Post Falls Management – Mangar UK (mangarhealth.com)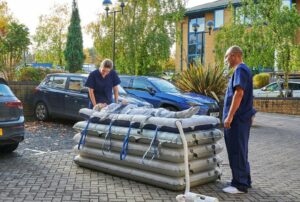 [i] NHS England and NHS Improvement, The incidence and costs of inpatient falls in hospitals. 2017
[ii] NHS England/Improvement, The incidence and costs of inpatient falls in hospitals. 2017